The #2 Rated IBS Product: BioZyme Enzymes
BioZyme Enzymes - #2
IBS Product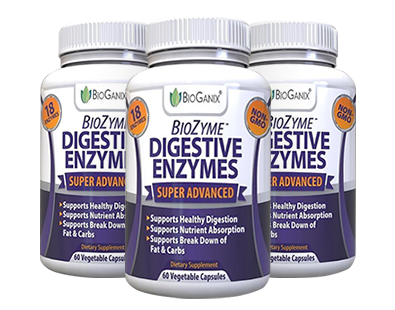 Supplement Facts
Servings Size: 1 Capsule
Servings Per Container: 60
Amount Per Serving
%DV
Protease 1
20,000 HUT
*
Protease 2
4,000 HUT
*
Aspergillopepsin
100 SAPU
*
Amylase
5,000 DU
*
Lipase
1,250 FIP
*
Cellulase
5,000 DU
*
Glucoamylase
50 AGU
*
Invertase
200 SU
*
Alpha-Galactosidase
50 GaIU
*
Beta Glucanase
65 BGU
*
Pectinase
16.9 PGU
*
Xylanase
250 XU
*
Phytase
10 FTU
*
Hemicellulase
1,000 HCU
*
Lactase
500 ALU
*
Bromelain
500,000 PU
*
Papain
500,000 PU
*
Peptidase
160 DPPIV
*
Other Ingredients: Maltodextrin, Vegetable Capsule, Medium Chain Triglycerides
*Daily Value (DV) not established
BioZyme Digestive Enzymes contains several key enzymes, as well as the natural herbs peppermint, turmeric and ginger, all known to help address symptoms associated with IBS. This product comes with a 60-day money back guarantee but no discounts for multiple purchases.
EDITOR'S RATING
41 User Reviews
Introduction
Today we are conducting a review of BioGanix BioZyme Digestive Enzymes to see if this is an effective supplement. BioGanix advertises that it has designed a formula of 18 enzymes to give you relief from IBS and other digestive conditions. The manufacturer claims that this supplement boosts energy and aids with the absorption of nutrients as well as digestive health by reducing the symptoms associated with poor digestion such as bloating, gas, stomach cramps, heartburn, and abdominal pain.
Ingredients
Protease 1 – 20 000 HUT

Protease 2 – 4 000 HUT

Aspergillopepsin – 100 SAPU

Amylase – 5 000 DU

Lipase – 1 250 FIP

Cellulase – 500 CU

Glucoamylase – 50 AGU

Invertase – 200 SU

Alpha-Galactosidase – 50 GaIU

Beta Glucanase – 65 BGU

Pectinase – 16.9 PGU

Xylanase – 250 XU

Phytase – 10 FTU

Hemicellulase – 1 000 HCU

Lactase – 500 ALU

Bromelain – 500 000 PU

Papain – 500 000 PU

Peptidase – 160 DPPIV
While this seems to be an extensive list of enzymes that aid digestion. Key ingredients are missing that aid with inflammation such as:
Psyllium

Peppermint oil

Ginger

Turmeric
Dosage
BioZyme Digestive Enzymes is presented in vegetable capsules and should be taken at the beginning of each meal. The recommended dosage is 1 capsule, 1 to 2 times daily or as directed by a doctor. You should not exceed 6 capsules a day.
Possible Side Effects
There are no recorded side effects associated with this product but it does contain allergens which are dairy, soy, and wheat. BioGanix does not mention on its packaging or on the website if this is safe for children or women who are pregnant or breastfeeding. It is advisable to always consult your doctor first.
Price
A single bottle consists of 60 capsules and retails for $17.97 online. It can either be purchased directly from the manufacturer's website or from third-party retailers. There are no discounts or bulk purchase options available for this product.
Guarantee
BioGanix offers a 60-day guarantee on this product. An email needs to be sent to the manufacturer describing the negative experience you had. There is no information on whether or not the product needs to be returned. We did not find enough reviews from end users to see if any refunds have been successfully granted.
Our BioZyme Digestive Enzymes Review – Conclusion
The pros about this product are that it has a guarantee and does contain a few essential enzymes that aid in digestion which may benefit some, however, there are some cons to this product as well. The main concern is that the formula only focuses on breaking down proteins, fats, and carbs which helps with digestion but it does not focus on giving users any symptomatic relief from pain by using natural ingredients that have anti-inflammatory properties. The official website uses words such as "may reduce" and "may help" which does not give us any confidence in this formula. Many negative reviews have expressed this as well and have stated that they didn't get any relief from any pain associated with their digestive conditions. Based on the formula, the manufacturer's lack of confidence and the negative reviews, we do not believe that BioZyme Digestive Enzymes is the most effective product for relief from IBS and other digestive disorders.
Click here to learn about our Top IBS Products.
Stuart Fernandez
reviewed on and gave it a rating of
3
.