The #4 Rated IBS Product: Herbs of Gold IBS
Herbs of Gold IBS - #4
IBS Product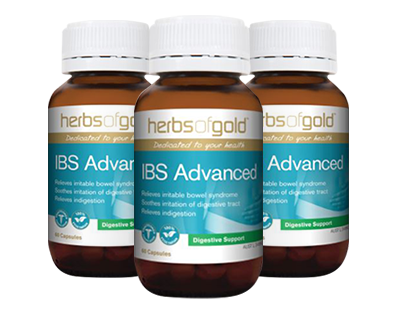 Supplement Facts
Servings Size: 2 Capsules
Servings Per Container: 30
Amount Per Serving
%DV
Cynara scolymus (Globe artichoke)
7g
*
Curcuma longa (Turmeric)
1g
*
Aloe vera (Aloe vera)
300mg
*
Ulmus rubra (Slippery Elm)
150mg
*
*Daily Value (DV) not established
This is a review of Herbs of Gold IBS, a natural supplement designed to help remedy the symptoms of irritable bowel syndrome and non-specific dyspepsia. Contains globe artichoke to help relieve stomach discomfort.
EDITOR'S RATING
25 User Reviews
Introduction
Herbs of Gold is an Australian brand that has claimed to have formulated a natural remedy to relieve symptoms associated with medically diagnosed IBS. The key ingredient to this formula is Globe artichoke which allegedly helps to relieve indigestion, non-specific dyspepsia, and abdominal discomfort.
In this review of Herbs of Gold IBS Advanced, we look at the facts to see if this product does effectively help with symptomatic relief from IBS.
Ingredients
Cynara scolymus (Globe artichoke) leaf extract equiv. to fresh – 7 g

Curcuma longa (Turmeric) rhizome extract equiv. to dry – 1 g

Aloe vera (Aloe vera) leaf inner juice powder equiv. to fresh – 300 mg

Ulmus rubra (Slippery elm) inner stem bark powder – 150 mg
This product does not seem to contain enzymes that aids in digestion and absorption such as:
Lipase

Papain (Papaya proteinase)

Amylase
Dosage
Herbs of Gold IBS Advanced is vegetarian-friendly and comes in the form of capsules. Adults and children who are over 12 years are recommended to take 2 capsules twice a day with meals. Children who are 8 – 12 years old are recommended to only take 1 capsule twice a day or as directed by a doctor.
Possible Side Effects
There no side effects recorded on this product and we were unable to find any reviews on reputable sites from end users at all to determine if anyone has suffered from side effects. The only warning presented by the manufacturer is that if symptoms persist, you should consult a doctor.
Price
A bottle of 60 capsules retails for $35.70 and can be purchased online directly from the manufacturer. We were unable to find any reputable stockists in the USA and depending on your location, you may not be able to get this product shipped. There are no discounts or bulk purchase options available for this product.
Guarantee
Unfortunately, Herbs of Gold does not offer any refunds for products that have been purchased online. You may only qualify for a refund if the product has been damaged in transit, incorrectly shipped or if you have received a faulty product.
Our Herbs of Gold IBS Advanced Review – Conclusion
At first glance, this product may offer relief from symptoms associated with IBS such as pain and nausea. The product is also vegetarian-friendly and contains no allergens such as wheat, lactose or gluten. Unfortunately, there are downsides to note about this product as well. The ingredients do not contain any digestive enzymes that may help with breaking down fats, carbs, and proteins which aids in digestion and absorption. The product is also only exclusively available in Australia and you may have trouble finding a local stockist. The last concern is that there are no reviews and testimonials from end users at all which suggests that this product may not be very popular or effective. There is also no refund policy available at all on this formula and consumers who are unsatisfied will need to cut their losses, unfortunately. In conclusion to this review, we advise consumers to look for alternative options from reputable brands that offer a risk-free guarantee and are easily obtained locally.
Click here to learn about our Top IBS products.
Stuart Fernandez
reviewed on and gave it a rating of
3
.