The #5 Rated IBS Product: Kijimea IBS
Kijimea IBS - #5
IBS Product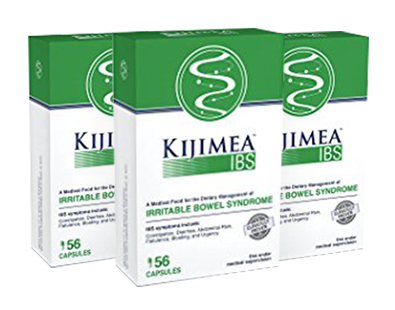 Supplement Facts
Servings Size: 1 Capsule
Servings Per Container: 14
Amount Per Serving
%DV
Patented bacteria strain B. bifidum MIMBb75
*
*Daily Value (DV) not established
Kijimea IBS is designed to relieve the painful symptoms of IBS such as abdominal pain and discomfort, bloating, gas, and cramps. It contains a patented bacteria strain which has been found to reduce IBS symptoms.
EDITOR'S RATING
24 User Reviews
Introduction
There is no proven cure for IBS, however, there are ways to manage your condition with additional supplements. There are many supplements on the market that advertise relief from IBS, but how many of these actually work? Today we are taking a closer look at a supplement called Kijimea which claims to use a clinically proven formula designed to manage and reduce symptoms associated with IBS such as bloating, pain and flatulence.
In this review of Kijimea IBS, we look at the facts to help you determine if this is an effective product.
Ingredients
Kijimea contains one active ingredient which is a strain of bacteria called B. bifidum MIMBb75 which is known to reduce abdominal pain, discomfort, bloating and urgency for bowel movements.
Dosage
Adults are advised to take 2 capsules once a day with meals. The capsules are easy to swallow and are free of gelatin. The product should be used for at least 4 weeks before seeing results but because everyone is different, the results may vary.
Possible Side Effects
There are no known side effects associated with this product. Kijimea IBS does not contain any lactose or gluten and has no traces of egg, milk, peanuts, tree nuts, shellfish, fish, soy or wheat. If you are pregnant or breastfeeding you should consult your doctor first before taking the supplement.
Price
This product is not sold directly from the manufacturer. You can only purchase this product from an authorized third-party distributor. A box of 14 capsules retails for $19.90 and the box of 56 capsules retails for $56.85. There are no discounts available for online purchases but there are coupons you can download to use at any pharmacy that stocks the product.
Guarantee
There is no information on the official website about a money back guarantee. Third party sites may offer a refund based on their policies. Based on the end user comments, we can't confirm that there is any refund available as most of them who were unsatisfied did not get a response or were told to use the supplement under medical supervision instead.
Our Kijimea IBS Review – Conclusion
There are positive aspects to note about this product. It does not contain any allergens and has no recorded side effects, however, there are downsides to this product. There has only been one clinical study that suggests B. bifidum MIMBb75 can reduce symptoms of IBS, this is not enough evidence to prove that this ingredient definitely works. It takes hundreds of trials and studies before you can confirm that any ingredient is a proven treatment. This product is also very expensive and does not offer any affordable bulk options available. In addition to this, there is a variety of complaints from end users that have complained about the product claiming that it made the symptoms worse, and when they tried to reach out to the company they were not offered any solution. Without any guarantee or refund, these unsatisfied clients are forced to cut their losses. The final concern is that there is a website dedicated to this product but there is absolutely no information on what the ingredient is and how it works to manage symptoms. Without this information and the guarantee, consumers may find it in their best interest to seek alternative options to Kijimea IBS.
Click here to learn about our Top IBS products.
Stuart Fernandez
reviewed on and gave it a rating of
3
.